Okay, folks...doing something a little different w/ Sunday Snapshots. I'm still going to give y'all a peek of my Sunday fun...but I'd like you to share some pics from your day!
This'll be a weekly link-up...and be sure to grab the Sunday Snapshots button. :)
1. Sheldon getting crazzzzyyyy...high on a little catnip.
2. B'fast: scrambled eggs & salsa, toast, and Polish Kielbasa.
3. Amaze new mascara (Christmas present from Sister)...Benefit BadGal Lash from Sephora.
4. Looking for eagles after church...didn't spot any...but the scenery was soverypretty!
5. Second-day hair...I love it!
6. Miss Addy...getting ready to enjoy some Mexican at la la la la La Bamba.
7. Outfit (hard to see...lighting was weird): shirt (Dress Barn); sweater (Costco); jeans (Target, clearance); shoes (Ugg slippers, Christmas present); necklaces (vintage & 'H' pendant from Sister).
8. Quiche...ohmygoodness! Ready to go for dinner Tuesday. Weird to make so far in advance, I know...but that's the great thing about quiche! It stores so well...and is just as delish! So...Sunday afternoons, I have a little extra time...perfect opportunity to get dinner ready for a weeknite. Saves me from rushing later. :)
Okay...so, you've seen what my day was all about...now, a peek at yours!
Link up below and grab the button to share on your post.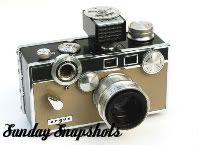 ~Hilary~